Leather Albums
After a rocking photo session or wedding, there is no better way to preserve your images than with an album. Our handcrafted albums are made of the finest Italian leather and have many customizable options, including over thirty vibrant colors. Your name and event date can be added to the cover, and we can also add a picture cut-out on the front cover. The presentation of your images is simply stunning as each page is printed on photographic paper and lays completely flat. We will work together to select your favorite images and then our studio will get to work laying out your custom album to tell the story of your event!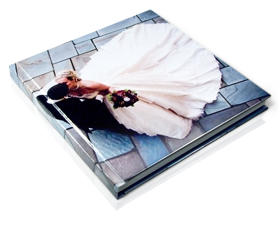 Photographic Cover Albums
What's the latest trend in albums? Photographic covers are popular choices for non-leather, animal-friendly options. The cover features a full wrap-around image and is coated with your choice of protective laminate to create a beautiful glossy or satin appearance. You can work with our studio to pick the stunning images for the cover and inside design. We can also add text to the design to personalize the album for your event. It's up to you! The presentation of your images is simply stunning as each page is printed on photographic paper, and lays completely flat. Once the images are selected, our studio will get to work on designing and creating your custom album to tell the story of your event!
Sign-In Albums
A sign-in album is a must for recording your guests' comments at your wedding or special event. Sign-in albums are popular as wedding guest books, senior yearbooks, baby memory books, or fun keepsakes from Bar and Bat Mitzvahs, Quinceañeras, and Sweet 16 parties. The sign-in album displays images on the left side of the album and high-quality faded parchment paper on the right side of the album for guest signing. Each book comes with a pen and our high-quality parchment paper ensures that your book remains smudge free. You'll love reading your guests' comments for years to come!
Coffee Table Books
Coffee table books are perfect for displaying your images and adding a unique touch to your table. Available to order with a hard or soft cover, these books come with several page options from lay flat to linen! We will work with you to pick out the best images from your event or portrait session and then design and create a book that no one wants to put down! These books are also great as copies of your wedding album or as a brag book to show your friends and family!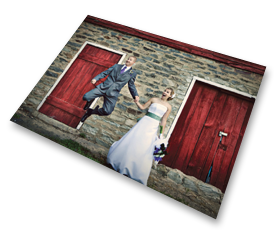 Professional Printing
Don't be fooled – professional printing is not the same quality that you can find anywhere else. What's the difference? How about 256 inks vs. 56 inks that typical printers use, not to mention the archival paper used that guarantees the print for 100 years. Professional images are color corrected and checked at every step of our process for quality. Once you've hired a professional photographer, ensure that your images will look their best and last forever by demanding professional printing.
Gallery Wraps
Are you looking for a bold, unique way to display your professional pictures in your home? Our studio offers gallery wraps, contemporary canvas prints wrapped on a 1½-inch wooden stretcher. Your image wraps around the sides of the frame creating a finished product with no need for framing. With sizes up to 40×60 and the look of a custom oil painting, this product has a high "wow" factor and looks great in any home.